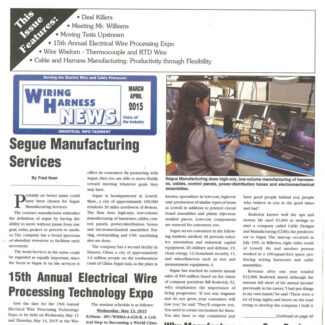 Segue Manufacturing Services, a leading integrated manufacturing solutions company, was featured in the April Wiring Harness News edition. The article features Segue's history as a small start up in 1991 and details how they have risen to become a successful global contract manufacturer with over 500 employees. The article also notes how their quality certifications and credentials, along with their manufacturing services and vertical integration have set them apart from competition.

Segue offers high-mix, low-volume manufacturing services of wire harnesses, cable assemblies, control panels, power-distribution boxes and electro-mechanical assemblies. Segue also offers System Integration, Potting and CNC machining services. Segue currently services several markets including the Medical, Military, Robotics, Industrial, Automotive, Clean Energy, Homeland Security & miscellaneous markets including Test & Measurement.
Segue has a second facility in Xiamen, China, a city of approximately 3.6 million people on the southeastern coast of China. Segue Asia, as the plant is known, specializes in low cost, high-volume production of similar services and capabilities as Lowell in addition they offer printed circuit board assemblies and plastic injectionmolded capabilities. Low-cost components are also sourced for customers with their Global Supply Chain Team in both locations.
Mark Griffith, Segue's Vice President of Global Sales & Marketing stated "I think it is important for the marketplace to understand our strong history and the value that we bring to our customers with highly engineered and competitive solutions globally. The featured article in Wiring Harness News conveyed that message well."
About Segue Manufacturing Services
Segue Manufacturing Services is a U.S. owned and operated, global contract manufacturer providing a portfolio of engineering services and manufacturing capabilities from sub-assembly level to complete end-to-end manufacturing in a lean manufacturing environment. They provide customers a competitive edge through a comprehensive suite of cost-effective manufacturing services that is unavailable from most regional contract manufacturers. From low-to-moderate volumes, high-mix production and new product introduction in the United States with the ability to transition to high-volume, complex assemblies at our facility in Xiamen, China. For more information about Segue Manufacturing Services, please visit at www.segue-mfg.com
More Information
Scott Manty
VP Sales & Marketing